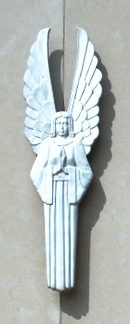 Guardian Angels Parish was canonically established on July 23, 1957, by Archbishop John A. Floersh. Father Dominic Altieri was appointed the first pastor in August of that year. In September Masses were celebrated in the Durrett High School cafeteria while the church building was under construction. The cornerstone was laid in June 1958, and the first Mass was offered in the new church on October 26, 1958. Archbishop Floersh blessed the church in January 1959.
Guardian Angels School, which opened with grades one to eight in 1958, was served by the Sisters of Loretto. In 1990 the school was merged with St. Ignatius and Resurrection Schools to form Thomas Merton Academy. Guardian Angels served first as the site for grades four to eight of this regional school and then as the site for all grades until Thomas Merton closed in 2003. In 1971 the convent was remodeled for use as the rectory and parish offices. The previous rectory became a meeting hall. In the following ten years, further improvements were made to the school and church.
In 1996 Archbishop Thomas C. Kelly, O.P., invited the Resurrectionist Fathers to staff the parish. To finance operations, the parish holds five major annual activities in which large numbers of parishioners contribute services.